Life is full of ups and downs. What I went through last weekend was exactly what kept me passionate in this sport with the team all these years…
Team Kiyah-Splashh! registered our interest in PA Paddle Championship 2013, and because we have a pool of rowers staying or active in grassroots within Bishan-Toa Payoh cluster, we took part in Community Games as well (which was held in conjunction with PA Paddle) under Bishan East CSC. Both events were held at Bedok Reservoir over 2 days, 27 & 28 Apr.
Our 1st race on 27 Apr (Sat) was the heat for PA Paddle Men Open 20-Crew. I looked at the team line-up, and observed that ½ the boat comprised paddlers rowing with us 1st time in a race, or basically paddlers rowing their 1st time in a race. I was cautiously optimistic, and hoped for the best. When we were at race start line, the boat drifted to the left, and our paddlers were unsure whether to put in maximum power during take-off, for fear of heading out of lane. Hence we ended with a poor take-off, a moderate maintenance, and a last charge that was not in sync.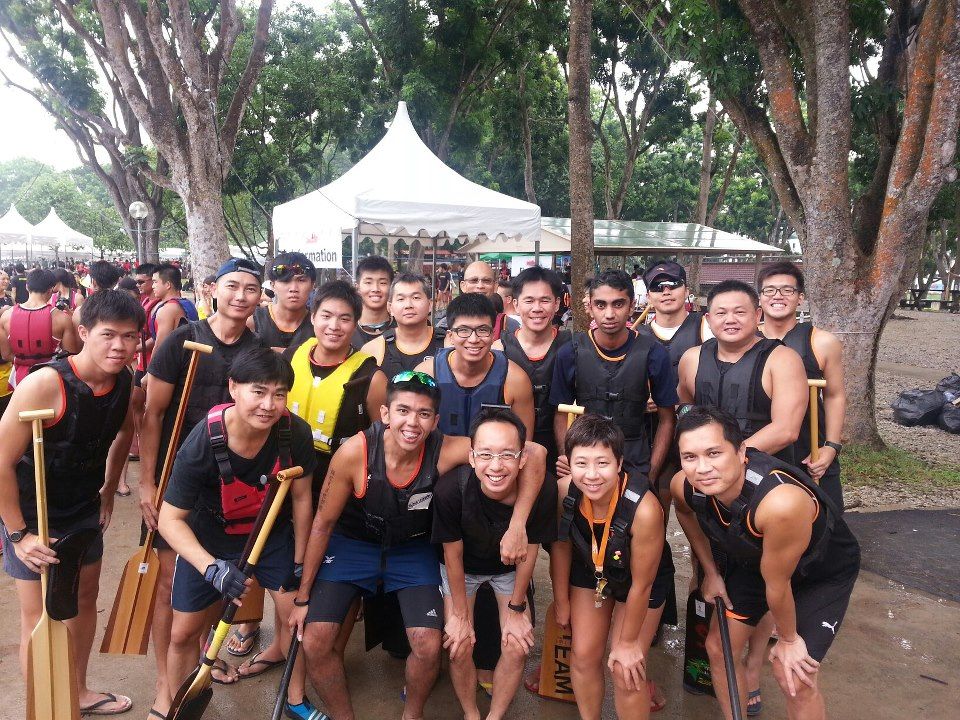 Happy spirits before going down for PA Paddle Men Open heat. Photo: Fern Lim
As the result board showed, our fate was sealed with a last place in 5th position, and I had to comment to Ivan that ours was the "only team above 1:20". Even Styvie was cracking that we should not be drinking 100 Plus for replenishment, but Bedok Reservoir water instead.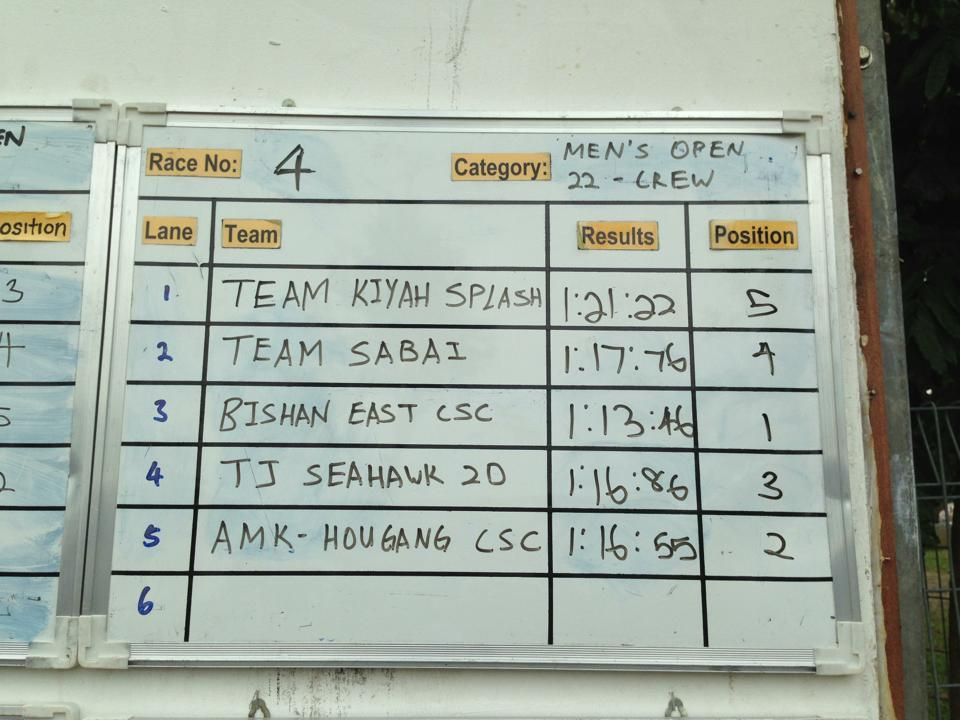 The "only team above 1:20″. Photo: Ivan Shim
Next was the heat for PA Paddle Mixed Open 20-Crew. We had a few of our women paddlers joining us for this race, who were also rowing their 1st time in a race. This time round, any remaining optimism in me, had already dissolved into thin air. I was only hoping we would not get last. The take-off was better, but apparently our strokes for maintenance were short, for last charge even shorter. Alas, we did not get last, but 2nd last, which was another 5th position (out of 6 teams in this heat).
So at the end of the 1st day, Maurice told me that this is the 1st time he encountered Team Kiyah-Splashh! not progressing to semis, being kicked out totally in the heats. Everybody went back promptly by lunch-time. There was no mention of any team lunch. I headed home and was still in time to catch a quick shower, then went downstairs (alone) for a hearty plate of wanton mee (to neutralise my heartache).
On the 2nd day – 28 Apr (Sun), we were requested by Jonnie Baby to report early (8.15am) at race site. Then came dark stormy clouds that rained non-stop (heavy, light, then heavy again) until just before lunch-time. When it was still drizzling by late morning, the race organiser assembled all team managers at the reporting tent. They confirmed that due to time constraint (as a result of the wet weather), there will be no semi or final race – upon completion of the respective heats, boat timings will be compiled and medals will be awarded to the best 3 timings (for gold, silver and bronze). This is actually an IDBF rule that stipulates that winners will be decided based on previous race timings, in the event that semis or finals can't be carried out for reasons such as this. So we are going to have time trials for all our Community Games events…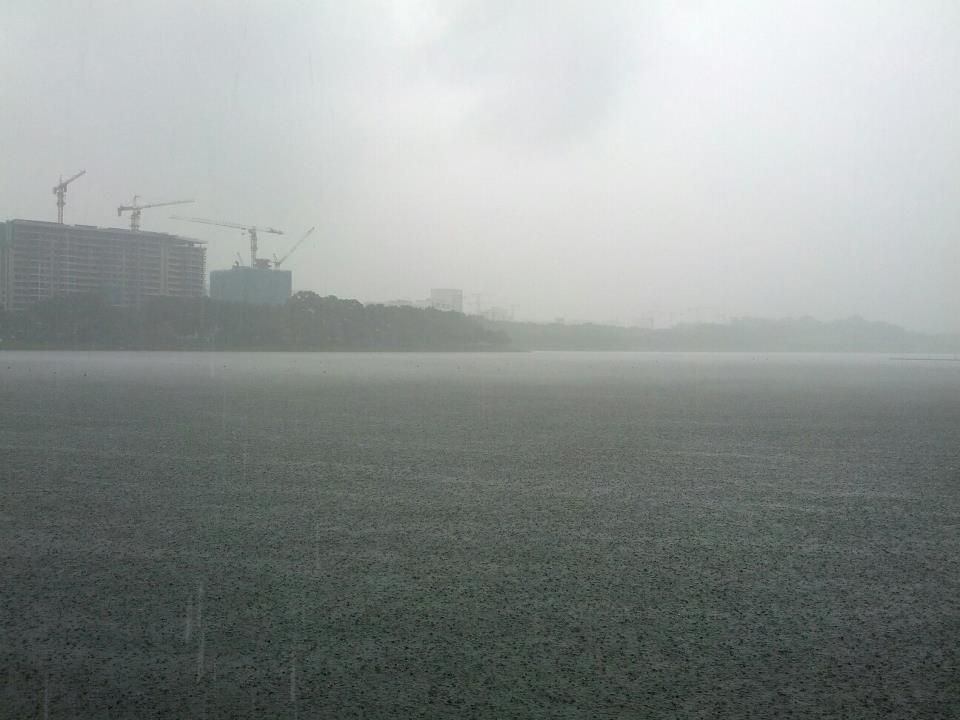 The downpour on 2nd day (28 Apr) that held up everything. I was thinking of just going home for a nice hot cup of kopi-o, because it was getting boring waiting… Photo: Richard Tay
The 1st event was the heat for Community Games Premier Men 12-Crew. Most of us were already getting bored and hungry by then, and for the guys who went down, it was a very close fight towards the finish line. They ended up 2nd in the heat, behind Team BB East (not sure if BB stands for Bukit Batok). I was hoping that the timing for this 2nd place can qualify us for a medal, but we had to settle for 6th overall when all heats for this race category concluded. Still, after the setbacks from yesterday, this was so much better and more encouraging (no more last or 2nd last place anymore)!
The 2nd event was the heat for Community Games Premier Mixed 12-Crew. We were leading throughout the race (due to a strong take-off), although several people on the shore (e.g. Jay) saw that the boat in lane 1 (CCK CSC Team A) overtook us at last charge just before the finish line. This was a big disappointment for me when I heard it. It's like going downstairs for my wanton mee, and the chef telling me that the guy right in front of me had just taken the last plate. I had to camp myself at the results board to believe my eyes. When the placing and timings were finally written on the score board, I wanted to cry immediately. It felt really good. I was the guy who ordered that last plate of wanton mee, and the chef gave me extra wantons because he is wrapping up for the day. It was that good. After all heats for this race category were concluded, we were 2nd overall – a Silver medal, whoopee!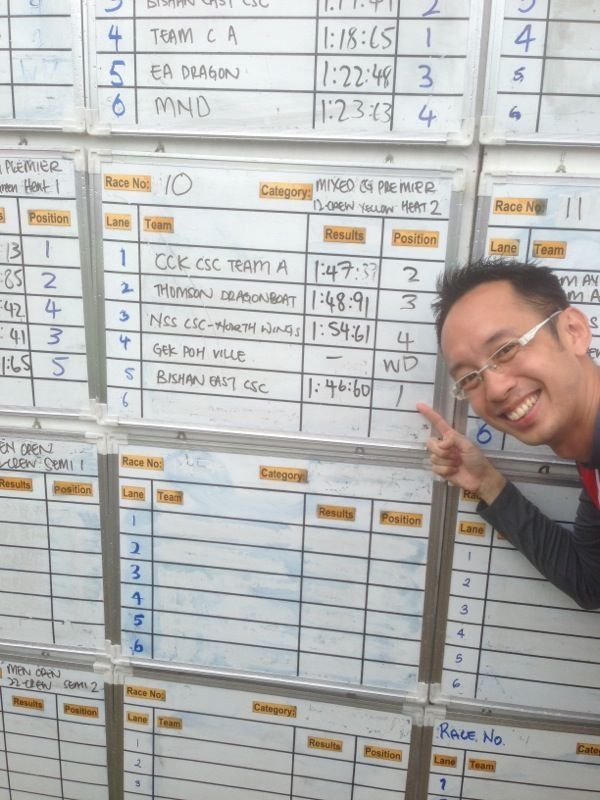 Almost thought we got 2nd in the CG Premier Mixed – man, that was a close shave… Photo: Jonnie Baby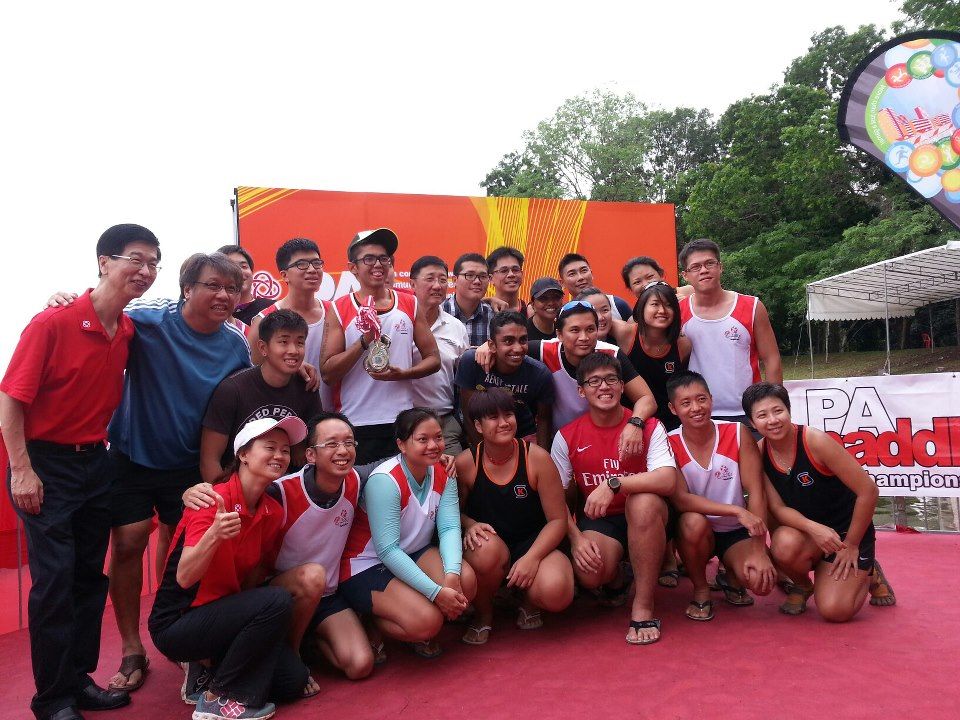 An overall 2nd (in terms of timing) for CG Premier Mixed! On far left of photo (in red shirt) is Mr Ang Hak Seng, Chief Executive Director of PA. Photo: Fern Lim
The 3rd and last event for the day, was the final for Community Games Premier Women 12-Crew. There were only 4 teams taking part, and as long we don't come in last, the ladies would be going home with something tonight. The rowers felt a little edgy initially, because we had 2 rowers taking part in a race just before (Institute of Higher Learning category), and we had to wait for them at the boarding pontoon (while the other 3 competitor boats had already rowed over to start line). When the 2 rowers arrived back at pontoon and boarded our boat, there was no more holding back. The race strategy was to go long, go hard, and if you check out the video recording, you would have to admit that was executed perfectly. Considering that ½ the boat was made up of new rowers (even the drummer and steerswoman were doing their jobs the 1st time), this is indeed without doubt, the ultimate "gold medal" performance. Not only were the ladies rewarded with a gold medal each (I think this is the very 1st time for the ladies, if you scroll down the rest of articles in this website), they brought home a champion's trophy as well.
Ending the CG Premier Women race with a commanding lead and timing. Photo: Jonnie Baby
Our well-deserved winner, the champion of CG Premier Women, taking a photo with Mr Ang. Photo: Raymond Ho
On behalf of all you happy winners out there, I would like to express my appreciation to our organisers behind the scene, i.e. Jonnie Baby, Hao Yuan, Mabello, Ting, Richard. Many, many people told me it has been a long, long time, and I see a lot of faith coming back into Team Kiyah-Splashh! thanks to your good planning and hard work!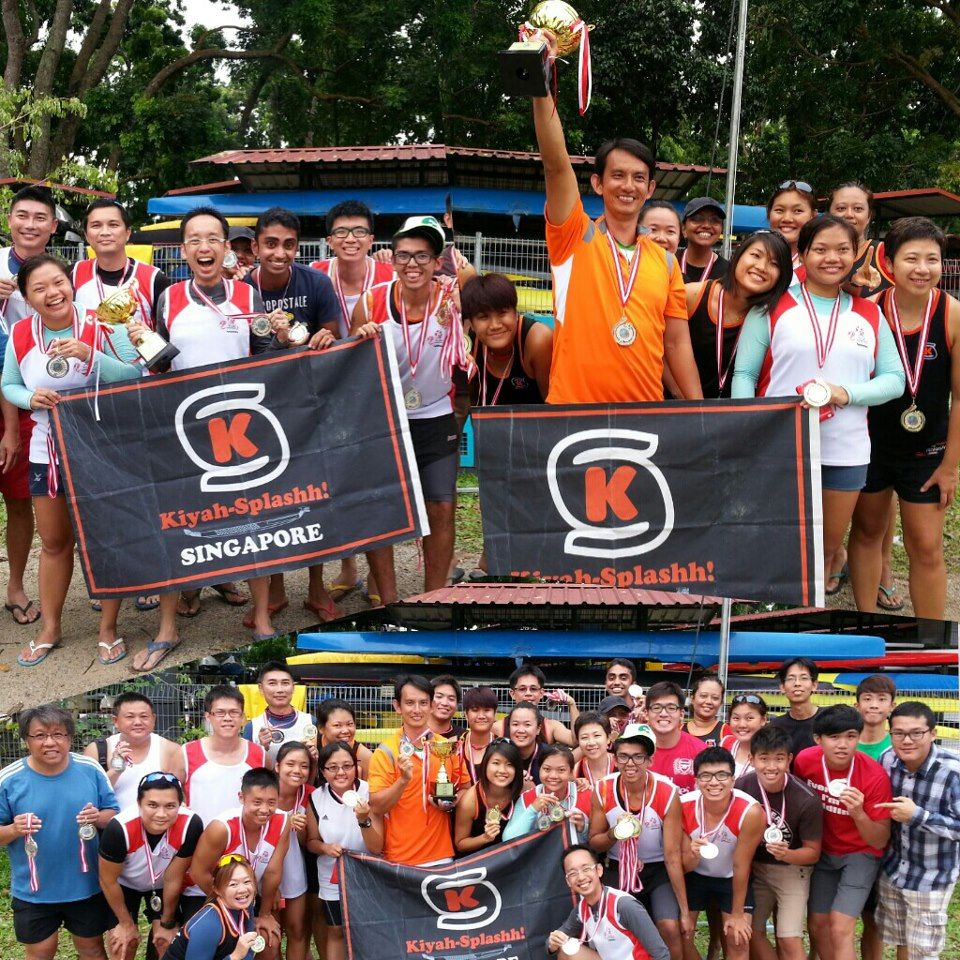 And the celebrations began thereafter. Check out Haoyuan – the way he lifted the trophy was as though we won the Champions League! Photo: Fern Lim